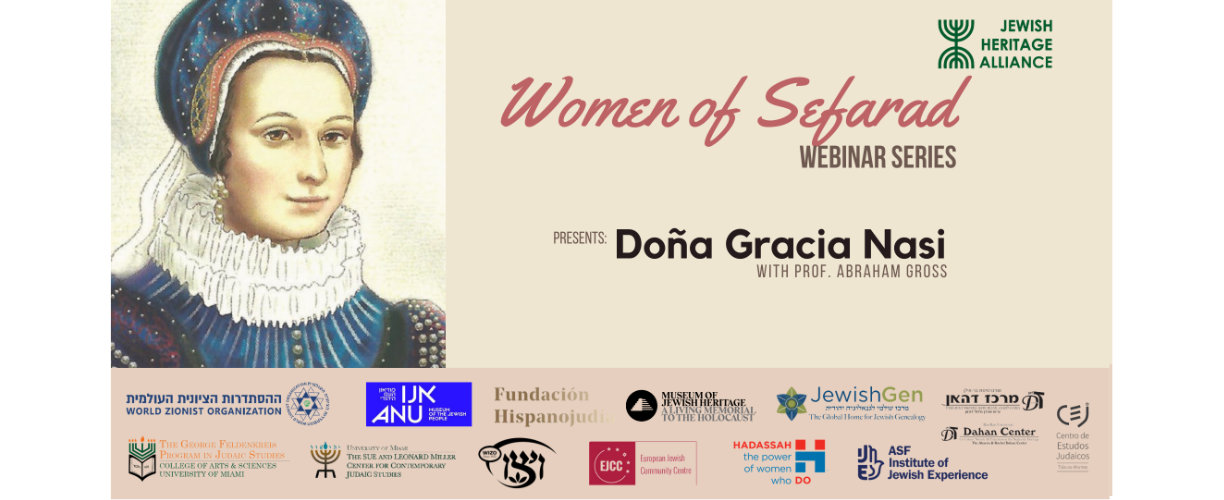 Doña Gracia Nasi
On April 11, 2021, at 2PM EDT Jewish Heritage Alliance and their participating partners will host the Doña Gracia Nasi webinar, the second event of a multi-part educational webinar series celebrating the courage and determination of the Women of Sefarad who played a unique and special role during Medieval and Early Modern times.
About Doña Gracia Nasi
Doña Gracia Nasi, born in Lisbon (1510–1569), was among the most formidable figures of the Sefardi world in the sixteenth century. She was a shrewd and resourceful businesswoman, a leader of the Sefardi diaspora and a generous benefactor of Jewish enterprises. A legend in her own time, she is best known for initiating a bold forward-looking project—an effort to establish a self-sufficient Jewish settlement on the site of the ancient city of Tiberias in the Holy Land as a refuge for Jews and for conversos fleeing from Spain and Portugal.
#sefaradic #sefaradit #sefaradexperience #sefaraditaspernambuco #sefaradifood #sefaradmusic #séfarad #sefaradicmusic #sefaraditas #sefaradfood #women #womenempoweringwomen #celebratewomensachievements #Sefaradismo #sefarad #jewish #JewishHeritageAlliance #jewishpride #jewishpeople #jewishhistory #cryptojews #conversos