Community Advisory Board
The Community Advisory Board at Jewish Heritage Alliance (JHA) is a collective group of community leaders and organization representatives that have come together to help build a bridge among and between global communities with the intent to assist JHA and one another to actively promote the Sefarad legacy on a global scale.
Rabbi Albert E. Gabbai was born in Egypt of Sephardi ancestry. Educated in France, he continued his education at Yeshiva University, New York at the Rabbi Yitshak Elchanan Theological Seminary. Rabbi Gabbai received his Semikha from Sephardi Chief Rabbi of Israel, Mordekhai Eliyahu, Midrash Sephardi, Jerusalem.
He was Hazzan at Congregation Shearith Israel, N.Y. He has been Rabbi of Congregation Mikveh Israel, the Spanish Portutuese Synagogue in Philadelphia and the 2nd oldest synagogue in the country, for the past 33 years.He is the past President of the Rabbinical Council of Greater Philadelphia. He lectures throughout the world and teaches Rabbinic, Torah, History and Sephardic topics.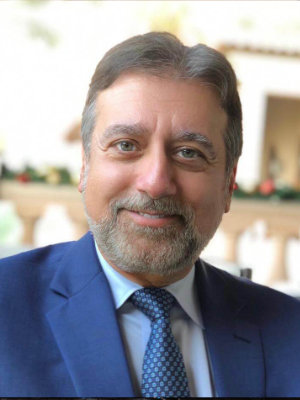 Rabbi Elie Abadie, M.D.
Jewish Council of the Emirates
Rabbi Elie Abadie, M.D. comes from a long and distinguished rabbinical lineage dating back to fifteenth century Spain and Provence. Following the expulsion of Jews from Spain in 1492, his family migrated throughout the ages through Italy, the Balkans, Greece, Turkey, Syria, and Lebanon. Rabbi Abadie was born in Beirut Lebanon, and grew up in Mexico City, coming to the United States where he earned his B.A. in Health Sciences in 1983, B.Sc. in 1984 in Bible Studies, Hebrew Teacher's diploma in 1985, and a Master's degree in Philosophy in 1986. Rabbi Abadie received his Rabbinic ordination in 1986 from Rabbi Isaac Elchanan Theological Seminary. He graduated SUNY Downstate Medical Center in 1990 with an M.D. degree. He did his residency in Internal Medicine, and later his fellowship in Gastroenterology at Maimonides Medical Center.
Rabbi Abadie joined the Jewish Council of the Emirates (JCE) in 2020 as its Senior and Resident Rabbi. As the Jewish community in the United Arab Emirates experiences dramatic growth from an influx of Jewish tourists from Israel and the West following the historic signing of the Abraham Accords, Rabbi Dr. Abadie provides spiritual leadership to the local community helping to build and grow Jewish life in the Gulf.