Meetings & Events
Jewish Heritage Alliance (JHA) underlying mission is to advance the legacy of Sefarad and create much needed attention regarding this scantly reported segment of Jewish and World history. To accomplish this mission, we created a diverse global coalition of people and organization that have come together in an effort to promote the saga of Sefarad on a global scale.
We employ a variety of tools and platforms in our effort to deliver the Sefarad legacy to the public square. This includes stellar, educational seminars, on and offline, that bring much needed attention to the story of Sefarad. We also collaborate with various institutions, including leading museums, creating exhibits, events, and webinars. We will be developing special interest tours that bring the history of Sefarad to life, including meetings and events that will infuse life into the Sefarad legacy and its profound consequences. We will coordinate these programs and events with our Strategic Alliance Partners and affiliates.
JHA offers you the opportunity to become familiar with the Sefarad segment of Jewish life while meeting people from across the globe. Keep visiting our website and follow us on social media to learn more about upcoming events.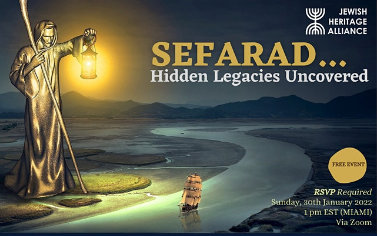 This webinar will address the journey of those who were forcibly converted but opted to keep their identity secret and the consequences their decisions produced. We will journey across the generations to get a glimpse of how the crypto-Jewish identity evolved and was understood in the Americas. We will explore these legacies through the lens of history, literature, and music.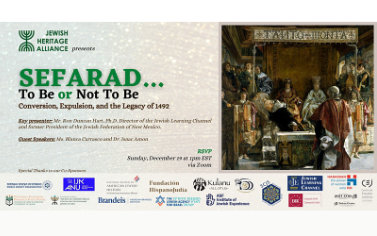 During this webinar we explore the torturous, painstaking decisions facing the Jews of Sefarad upon the 1492 Edict of Expulsion announcement and the ensuing fate of 150,000 Jews and 25 generations of their descendants, both the openly practicing Sephardic Jews around the Mediterranean, and the conversos/crypto-Jews in the Americas.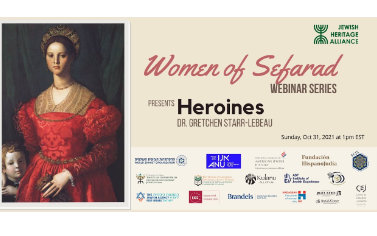 On October 31, 2021, Jewish Heritage Alliance and their participating co-hosting partners resume the Women of Sefarad Series presenting "Heroines", an event celebrating the courage and determination of the Women of Sefarad who played a unique and special role during Medieval and Early Modern times.
See all Meetings and Events