Meetings & Events
We will be developing mission tours, meetings and events that will create initiatives and other developments concerning a cross-section of interests including Jewish and Converso life in various countries and regions. We will coordinate our special events with our Strategic Alliance Partners. These events and meetings will inspire you to join our alliance and generate goodwill, develop the desire to connect with history and tradition throughout the globe. We invite you to be on the lookout for Jewish Heritage Alliance initiatives and events.
Here is your chance to meet people from across the globe. Keep visiting our website to learn more about upcoming events, speakers, volunteer opportunities, heritage and cultural programs, social events and more.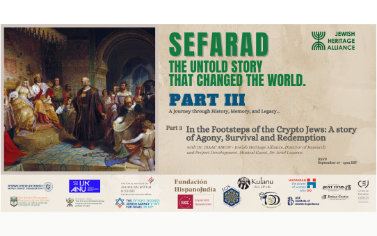 This segment will deliver the amazing journey of resilience, survival, and redemption, as we walk in the shadows of Crypto-Jews (Jews that were forcibly converted but tried to hold on to the Jewish tradition in secret) who lived their lives in mortal danger of the Inquisition. This webinar shows how conversos, despite incredible obstacles, strove to remain faithful over centuries to their ancestral legacy.
This webinar will examine the Iberian Inquisition and its relentless pursuit of Crypto-Judaism for three and a half centuries on five continents, reshaping the world of Sefarad. The Inquisition is infamous for its tortures and persecution. In Spain and Portugal, this powerful tribunal sought out to uncover he act of "Judaizing" by the Jews who were forcibly converted to Christianity.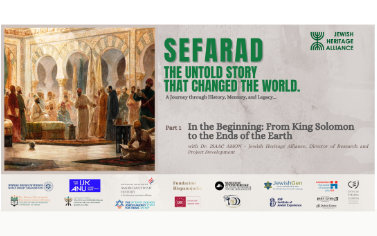 Jewish Heritage Alliance and their co-hosting partners invite you to attend a three-part series exploring the saga of Sefarad. The Sefarad experience is more than merely recounting a history; this is a far-reaching segment of Jewish and world history spanning centuries with profound consequences still unfolding in present day.
See all Meetings and Events