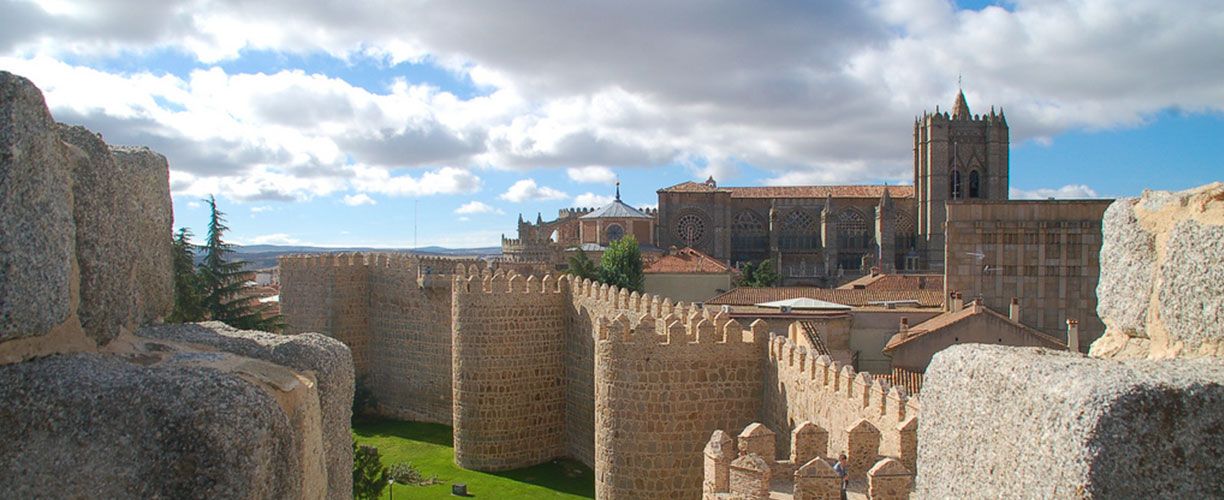 Jews of Sefarad (Spain & Portugal)
Overview / Highlights
12 NIGHTS / 13 DAYS
We invite you to take a journey in time through Jewish Sefarad (Spain & Portugal). Jewish presence in Sefarad existed long before Portugal and Spain became countries. The contribution of the Sefarad Jews (Jews of Portugal and Spain) to the arts, philosophy, commerce and sciences helped create the rich cultural heritage. For many centuries, lasting until 1492, the Iberian Peninsula was a mosaic, a melting pot of peoples, cultures and religions. The presence of Jewish communities embellished the urban geography of the region. These communities developed their own culture, practiced their customs and their religion and went about their social life in close contact with both Christian and Arab communities.
Tour Program Summery Outline

Day 1 : Arrive Lisbon (Presentation & Old City Tour)
Day 2 : Lisbon (City, Sintra, Cabo de Roca, Estoril, Cascais)
Day 3 : Lisbon-Tomar-Coimbra-Porto
Day 4 : Porto (City, Visit Jewish Community, Winery & Mini Cruise)
Day 5 : Porto (Shabbat Services)
Day 6 : Porto - Salamanca (Transcoso & Belmonte)
Day 7 : Salamanca - Madrid (Avila)
Day 8 : Madrid (Toledo & Cultural Madrid)
Day 9 : Madrid - Granada (Alhambra & City)
Day 10 : Granada - Cordoba - Seville (City of Cordoba)
Day 11 : Seville (City of Seville)
Day 12 : Seville (Evening Flamenco Dinner & Show)
Day 13 : Depart Seville

Click   icon to enlarge map to full screen view and back 
DAY 1, Tue: Arrive Lisbon (Presentation & Old City Tour)
Welcome to Lisbon, Portugal's charming, hilly, coastal capital city, considered one of the most charismatic and vibrant cities of Europe. It is a city that effortlessly blends traditional heritage, with striking modernism and progressive thinking. Situated along seven cinematic hillsides overlooking the Rio Tejo cradle, Lisbon's postcard-perfect panorama of cobbled alleyways, ancient ruins and white-domed cathedrals - a captivating scene crafted over centuries.

Meeting services upon arrival and transfer to the Olissippo Lapa Palace is a resort within a city, an urban oasis tucked away on a hilltop in one of Lisbon's most exclusive neighborhoods. The hotel was built as the private residence of the count of Valenças and is just moments from the city's most famous sites and shopping streets. The luxurious furnishings come from the north of Portugal, recreating the styles of King D. João V and Queen D. Maria I, with Art Deco, colonial, Algarvian and neoclassic flourishes. Of the three distinct sections, the Palace Wing offers the most traditionally Portuguese interiors, while the Garden Wing and Villas have a more contemporary feel. The Tower Room is a lavishly luxurious suite, with two private balconies (one of which is the turret of the original palace) and arguably the best view in Lisbon.

This afternoon an orientation welcome presentation by Ruth Calvão, a renowned expert and unique authority on Sephardic and Crypto-Jewish history and culture. Hers is a special journey that combines her personal life experience with her dedicated, lifelong work, to promote and safeguard the relevance of the Saga of Sefarad, past, present and future. Born in Lisbon, Ms. Calvão studied anthropology and was always fascinated with Jewish traditions and culture. What makes Ms. Calvão a true, living expert on the subject of Sefarad is that she was born a Christian, and like many of her fellow Conversos, has embarked on an personal journey seeking her Jewish identity. Ruth made Aliya and moved to Israel in 1977 where she married and raised children in a Jewish environment.

Afternoon we take a walking tour of the old Jewish quarter in Alfama (Judiaria). Alfama is one of the oldest districts of Lisbon and is a delightful maze of narrow cobbled streets and ancient houses, which lead up the steep hill from the Tejo Estuary to the castle. Contained within this diverse and charismatic district are many historic buildings including the Se Cathedral, the Castle, the National Pantheon and Saint Anthony's Church.

Originally, Alfama was situated outside of the city walls and was associated with poverty and squalor, where only the poor and disadvantaged resided. As Lisbon grew into an important port, the district retained its lowly status as the tough and deprived district where sailors and dock workers lived. Today, Alfama has shrugged off its grim reputation, being transformed into a fashionable artisan district, while still retaining its character and dilapidated charm.

The Walking Tour will start from Restauradores Square (in front of Hard-Rock Cafe), following to Rossio Square, one of the major squares in Lisbon, where once existed the Palace of the Inquisition where we will learn the history behind the Jewish Memorial, located just next to the square, honoring those who lost their lives at the 1506 Jewish Massacre. The tour will continue to the Commerce Square, one of the biggest in Europe, passing by the area that was affected by the big earthquake in 1755.

Dinner is optional and can be arranged by our local guide
Overnight Olissippo Lapa Palace Hotel.


DAY 2, Wed: Lisbon (City, Sintra, Cabo de Roca, Estoril, Cascais)
Today we tour Lisbon's environs. First stop medieval Sintra, a resort town in the foothills of Portugal's Sintra Mountains, boasting a forested terrain and studded with pastel-colored villas and palaces and former summer resort of Portugal's monarchy. Here we visit the Moorish- and Manueline-style Sintra National Palace distinguished by dramatic twin chimneys and elaborate timework. The hilltop 19th-century Pena National Palace is known for a whimsical design and sweeping views. Following lunch, we stop at Cabo da Roca is a wild and rugged headland that marks the most westerly point of mainland Europe. The windswept cliffs of Cabo de Roca were believed to be the edge of the world up until the up until the late 14th century and the spectacular, desolate scenery adds to the allure of the location.

Our tour continues as we make our way to the palm-lined promenades of neighboring Estoril. With one of Europe's great 19th century hotels, famous as the setting for James Bond's "Casino Royale," it is a magnet for World War II history buffs. Portugal was neutral and ideally located for spiriting people out of war-torn Europe, and Estoril was a meeting ground and listening post full of international spies, counter-spies, couriers, and freedom fighters of the Resistance.

Next, we visit Cascais, a delightful Portuguese fishing town, and is the Lisbon's coastline most popular holiday destination. Historically, Cascais was a minor fishing village, until King Luís I (1838 - 1889) choose it as his royal summer retreat. Trailing the Portuguese nobility were the high society of Portugal, who in turn constructed lavish villas, ornate mansions and exquisite gardens. Today, Cascais is an elegant fusion of decorative 19th-century architecture, traditional Portuguese charm and during the summer it is a bustling resort, with a buzzing holiday atmosphere.

The Jewish Community first appeared and became organized in Cascais when Pedro I declared the town independent in 1364. Many residents were accused of Judaism, heresy and apostasy throughout the years. Cascais played host to important Jewish personalities not only within the backdrop of Inquisition or of groups of Sephardim Jews who had settled in Portugal, but more particularly during the 1930s and 1940s.

This afternoon we are back to tour the historical Jewish sites of Lisbon. Along the way you will discover artifacts, inscriptions, and monuments that no other Jewish tours of Lisbon can access. In May of 2012 a sensational discovery by Archaeologists of Jena University revealed Hebrew inscriptions on stone which point to the Jewish people residing in Portugal as early as 390 C.E. However, some Biblical Archaeologists believe that Tartessian texts found in Southern Portugal in 1922 suggests a Jewish presence dating to the time of King Solomon. Walking through the quaint side streets of Lisbon our guide and historian will explain these recent findings and unveil hidden elements in the architecture, explaining the influence of great Jewish sages like The Abravanel- a philosopher and statesman, and Abraham Zucato who altered the course of the Age of Discovery. The Jews of Portugal throughout history held social and political ranks with the favor of kings, and conciliatory relations between Muslims and Christians alike. However, these periods were equally marked by inquisitions, forced baptisms and brutal massacres which have been overlooked in many historical references.

On this tour we will also discover the amazing story of Crypto-Jews, (Cristão-Novos) a distinctive sub-group of Sephardim in Portugal who survived over 400 years of persecution in secret. At the site of the Inquisitors Palace, learn little known facts about the Portuguese Inquisition and the controversy of the Marquis of Pombal whose authority destroyed Jewish heritage but saved lives at the same time.

Dinner is optional and can be arranged by our local guide.

Overnight Olissippo Lapa Palace Hotel.


DAY 3, Thu: Lisbon-Tomar-Coimbra-Porto
This morning we depart Lisbon making our way towards Tomar, a small historic village 145 kilometers north of Lisbon, a fascinating destination as it was the regional strong hold for the Knights Templar religious order. The remains of their fortress and a monastery are still intact and open as a museum. Buried away in one of the narrow streets of the old Jewish quarter rests the oldest existing synagogue in Portugal dating back to 1438. After the forced conversions that followed in 1496; the synagogue was used as a prison, a church, a hay loft and finally a warehouse. In 1921 the building was declared a national monument and in 1939 the owner, Samuel Schwartz donated it to the state for use as a museum. A mikveh was discovered next door during excavations of the outbuilding in 1985. A prosperous Jewish community developed here back in the 14th and 15th centuries in what is called "the lower town", or town below. We will visit the Abraham Zacuto Museum (Abraham Zacuto was a famous Spanish astronomer, astrologer, mathematician, rabbi and historian who served as Royal Astronomer in the 15th century to King John II of Portugal). The Museum displays numerous ancient tablets, gravestones, texts, and artifacts showing all aspects of Jewish life in ancient Portugal. Next, we visit Convent of Christ. In 1983, UNESCO awarded the classification of world heritage to the Templar Castle and the Convent of the Knights of Christ in Tomar, a unique monument in the history of the western world. Here we follow the footsteps of the Knights Templar, a religious-military order full of mysteries with a great treasure that would include the Holy Graal. This order spreads through Europe and Middle East and arrives to the Iberian Peninsula, in the time of the "Christian Reconquista". Regarded as a holy war, it was centuries of battles between Christians and Muslims in the territory that is nowadays Portugal and Spain and the Knights Templar had a key role in this war and later on the Portuguese Age of Discoveries.

Our next stop Coimba. Rising scenically from the Rio Mondego, Coimbra is an animated city steeped in history. It was Portugal's medieval capital for more than a century and its home to the country's oldest and most prestigious university. Its steeply-stacked historic center dates to Moorish times and is wonderfully atmospheric with its dark cobbled lanes and monumental cathedral. On summer evenings, the city's old stone walls reverberate with the haunting metallic notes of the guitarra (Portuguese guitar) and the full, deep voices of fado singers. The city is at its best during university term time when the students bring a youthful energy to the streets, thronging bars and partying late into the weekend. Their presence also adds a political edge - witness the graffiti scrawled outside the repúblicas (communal student dwellings) addressing the political issues of the day. Time permitting, we will visit the university's famous " Biblioteca Joanina " library, dating back to the 18th century, it was designated as one of the most beautiful libraries in the world.

We continue to Oporto and the Crowne Plaza Porto Hotel located on in the heart of the city's new business district, a 5-star hotel exuding pure luxury and comfort.
Overnight Crowne Plaza Porto Hotel.


DAY 4, Fri: Porto (City, Port Winery & Mini Cruise)
Porto is a fascinating and vibrant historic and varied city, from the warren of narrow streets that make up the ancient Ribeira district through to the grand plaza of the Trindade district. The region is famed for the production of Port, which is still stored and matured in the vast cellars that stretch along the banks of the Douro River. Porto was once a major community of thriving Jewish merchants. Many Jewish merchants had their offices along the famed Porto riverfront in the Ribeira area along the Rua da Alfandega. Another Jewish community once flourished at the Rua Monte dos Judes, where in 1826 an important ancient Hebrew plaque was unearthed. Recently, the main synagogue for the Jewish quarter was discovered during renovations on an ancient building. Behind a false wall, workers stumbled onto an ark thought to be from the 15th century. The current Jewish community worships at the 1929 Mekro Haim or Fountain of Life Temple. We also have the opportunity to visit the Baroque Mateus Palace considered "the most fantastic country house in Portugal," which gave the name to the celebrated Mateus wine. You will stroll its magnificent gardens, visit the quaint local synagogue and enjoy a kosher wine tasting.

To close out this day we take a short cruise along the Rio Douro translates from Portuguese as river of gold. This allows us to experience all of Porto's bridges on this 50-minute cruise of Porto's six bridges. We coast down the peaceful waters of the Douro River and view Porto to one side and Gaia to the other, and all of Porto's stunning bridges connecting the two cities.

Friday evening Shabbat Services and overnight at hotel.
Overnight Crowne Plaza Porto Hotel. (B,D)


DAY 5, Sat: Porto (Day free - Optional Tours)
The day is free to attend Shabbat Services.

Optional: Evening panoramic night tour crossing one of the bridges.

Overnight Crowne Plaza Porto Hotel. (B,D)


DAY 6, Sun: Porto - Salamanca (Visit Trancoso & Belmonte)
This morning we head to Trancoso. With a past that parallels the history of Portugal, Trancoso is a town whose narrow streets and stone houses preserve the medieval atmosphere. The plateau on which it is situated, at an altitude of 870 meters, gave it a strategic position in the defense of the frontier with Spain and made it an important fortress during the Middle Ages. The labyrinth of stone streets leads to the town center and the Pillory, where the Old Town and New Town meet. In the oldest part stands the Castle, much contested by Moors and Christians and finally captured by D. Afonso Henriques in 1160, and the Church of São Pedro, the eternal resting-place of the mysterious Bandarra (1500-45), a cobbler-poet who prophesied Portugal's loss of independence in 1580 and its restoration in 1640.

Trancoso is home to a tiny but very important and wealthy Jewish community dating back to the 14th Century. The main reason was that here was one of the most important and largest markets in Portugal since the 14th century. We will visit the old Jewish quarter and the modern Isaac Cardoso Interpretation Center of Jewish Culture. Here resided many wealthy Jews, owner of several houses in many streets. They were many and wealthy, more than shoe makers, merchants, weavers or tailors, they loan money, and they were house owners and lived from tenancy. Some had privileges from the king, like David Borcas, Gonçalo Vasques Coutinho servant, Trancoso's mayor dismissed for the communal job. In the 15th century, Trancoso Jews asked King João II to enlarge the synagogue, due to the increasing number of the community, which during the following century was the largest in Beira Interior, with more than five hundred Jews living in Trancoso. After the Portuguese Inquisition establishment (1536), perhaps because of the messianic significance the Jews attributed to Bandarra's Trovas, prophet born in this city, the inquisitors entered in Trancoso and spread the horror among the New Christians. Jewish and New Christian Heritage legacy still lives in the written documents, local traditions and in buildings such as the Gato Preto House, or Poço do Mestre (Master's well), and other dwellings of the historic centre. This legacy contributed to build the Isaac Cardoso's Jewish Cultural Center and Bandarra House.

Next is we head to Belmonte, situated in the remote and beautiful region of Portugal is rich in the history and traditions. While most of the towns in central Portugal are suffering through difficult economic times, this small village northeast of Lisbon is enjoying a revival: The past decade has seen the construction of a luxury hotel and a museum, and tourism is booming. The cause? Jews, or more like the Conversos, to be exact. Belmonte, a town of 3,600, is home to some 300 descendants of Jews who survived the Inquisition by practicing their religion in secret - the only sizable community of these "secret Jews" to remain on the Iberian Peninsula. Until the 1990s, the Belmonte Conversos kept their history to themselves. But since warily emerging from secrecy, the Jews here have generated a small local economy in one of the most economically depressed regions of Western Europe - one that is benefiting Jew and non-Jew alike. We will visit Kadoorie Mekor Haim Synagogue and its collection of artworks and documents pertaining to the history of Judaism in Portugal, with a focus on Porto.

We continue and cross the border to Spain and arrive in Salamanca located in northwestern Spain, the capital of Salamanca province and part of the Castile and León region. With a history dating back to the Celtic era, it's known for its ornate sandstone architecture and for the Universidad de Salamanca. Founded in the 1100s and a key intellectual center in the 15th-16th centuries, the university continues to add to the city's vibrancy with its international student population.

We arrive at the magnificent historic Salamanca at Hospes Palacio de San Esteban located in the heart of the Old City, a UNESCO World Heritage Site. The hotel is housed in an immaculately restored convent built by Dominican Friars in the 16th century when the city was at the peak of its grandeur. Within its thick stone walls, sumptuous amenities offer a unique oasis of tranquility mere steps from Salamanca's most remarkable monuments. At Hospes Palacio de San Esteban, history infuses every nook.

Dinner optional and can be arranged by our local guide.

Overnight at the Salamanca at Hospes Palacio de San Esteban. (B)


DAY 7, Mon: Salamanca - Madrid (Visit Avila)
Morning brief visit of this ancient university town north-west of Madrid was first conquered by the Carthaginians in the 3rd century B.C. It then became a Roman settlement before being ruled by the Moors until the 11th century. The university, one of the oldest in Europe, reached its high point during Salamanca's golden age. The city's historic center has important Romanesque, Gothic, Moorish, Renaissance and Baroque monuments. The Plaza Mayor, with its galleries and arcades, is particularly impressive. The Jewish settlement of Salamanca seems to have been one of the oldest in the kingdom. The earliest documents mentioning Jews in Salamanca date back to the end of the 12th century. In the Fuero granted to the city by Fernando II, the Jews enjoyed judicial equality with the Christians. Following the death of Alfonso IX of León, the Jews of Salamanca were severely attacked but soon recovered, and the community became one of the strongest and most prosperous in the area. In the middle of the 13th century a barrio de Judeis is mentioned. At that time many of the streets in the Jewish quarter were well known; one of the synagogues was situated in that leading down to Calle Postigo Ciego, where the Jewish shops and workshops of the Jews were located. At the beginning of the 13th century the city was granted a charter (fuero) which included important sections relevant to the local Jews, and full rights of protection and justice equal to those of the other natives of Salamanca, Christians and Moors. At each feast of the nativity the Jews of Salamanca had to pay 15 gold pieces to the crown. The charter also regulated several matters regarding the slaughter of kasher meat and its sale in the town and Jewish quarter. In 1285 the community was made to pay 1,800 maravedis as a special war tax. At that time there were some 300 to 500 Jews in Salamanca. The Jews were merchants, moneylenders, physicians, shoemakers, and parchment makers.

The sparing of the community of Salamanca during the persecutions in 1391 was accomplished by Vicente *Ferrer, who came to the town and preached in its synagogues in 1411-12. He succeeded in persuading many to convert, and one of the synagogues was turned into a school named "The True Cross." In 1413 Juan II conferred upon the University of Salamanca the bet midrash with its courts and all that belonged to it, most of the community having left Judaism by then. In place of the bet midrash, a hostel for pupils of the university was set up.

We depart Salamanca and make our way to Avila, best known for the medieval city walls that were constructed of brown granite in 1090: surmounted by a breastwork, with eighty-eight towers and nine gateways, they are still in excellent repair, but a large part of the city lies beyond their perimeter. The Gothic cathedral is integrated into the city's defenses. It was built between the 12th and 14th centuries, and has the appearance of a fortress, with embattled walls and two solid towers. It contains many interesting sculptures and paintings, besides one especially fine silver pyx, the work of Juán de Arfe, dating from 1571. The churches of San Vicente, San Pedro and San Segundo are, in their main features, Romanesque of the 12th century. In the Gothic Monastery of Santo Tomás, erected by the Catholic Queen Isabella in 1482, is especially noteworthy the marble monument, carved by the 15th-century Florentine sculptor Domenico Fancelli, over the tomb of Prince John, the only son of Ferdinand and Isabella.

Avila was fortified by the time that Castile passed into Christian control. The repopulation undertaken by Raymond of Burgundy attracted people from all areas in the Iberian Peninsula, Jews and Mozarbs (Christians who kept their religion under Islamic rule) enriched the population which came to inhabit these lands. From the beginning of the repopulation their inhabitants thought about covering their defensive and spiritual necessities, and soon the constructions of beautiful churches and the City Wall for defensive purposes, which would become the city's symbol many years later.

With the unification and the Catholic Monarchs reign, Avila like all Castile, reached a prosperity stage, although it underwent serious consequences of political character, such as the expulsion of the Jewish community in 1492, of great demographic and economic importance.
This city was the witness of the birth, education, conversion and the reforming and writing work of St Teresa de Jesús. Avila, that had initiated its demographic decay with the expulsion of the Jews, held the naming of Capital of the Court of Madrid, which at that moment brought natural attraction and happiness to the city's nobles, as well as the expulsion of the Moriscos.

We continue to Madrid and the Westin Palace, Madrid Hotel. Commissioned by King Alfonso XIII in 1912, the iconic hotel The Westin Palace, Madrid is located in the renowned Art Walk. This area links the city's most enriching museums, El Prado, Reina Sofía and Thyssen-Bornemisza and is very close to the most important monuments and some of the best tapas restaurants in town.

Afternoon panoramic tour of Madrid will take us to the Plaza de España, with its monument to Miguel de Cervantes, author of Don Quixote. We will also visit the area in Moorish Madrid where the Jews lived under Moslem rule, near the Royal Palace and new Almudena Cathedral. We will walk through the bustling Plaza Mayor, now a magnet for tourists, but the site of far more sinister activities a few centuries ago.
Overnight at the Westin Palace, Madrid Hotel. (B)


DAY 8, Tue: Madrid (Toledo & Cultural Madrid)
Depart Madrid driving toward Toledo, an ancient city set on a hill above the plains of Castilla-La Mancha in central Spain. The capital of the region, it's known for the medieval Arab, Jewish and Christian monuments in its walled old city. It was also the former home of Mannerist painter El Greco. Before entering Toledo, we will stop to see the spectacular view of the old walled city, immortalized by El Greco, and the Tagus River flowing around it. The two ancient Jewish quarters can be seen clearly, as well as the Cathedral and the Alcazar (12th-century fortress). We will hear a detailed description of the imposing panorama. Our private tour will include visits to the two synagogues remaining today: Santa Maria la Blanca and El Transito, which now houses the Sephardic Museum (the first museum in Spain to be adapted for blind visitors). The synagogue was built by Samuel Ha-Levi, a prominent member of the Jewish community of Toledo in the 14th century, and treasurer and advisor to King Pedro I. We will visit Ha-Levi's house, which the painter El Greco lived in two hundred years later, and which now houses the El Greco Museum. We will wander through the alleyways of the Jewish quarter and hear about the street battles that took place between the "old" Christians and "new" Christians (conversos) and the role of the Church and local nobility at that time. After lunch we will head south through La Mancha. We will stop in the town of Consuegra, where you can still see a dozen windmills from the time of Don Quixote. We will visit one of them, whose 16th-century machinery is still in perfect working order. We continue south to Almagro. We will hear about the important role that this town played as a haven for Jewish refugees. We will walk through the old town and visit the picturesque main square dating from the 16th century. We will also visit the "Corral de Comedias", renowned 17th-century theatre, which has been functioning without interruption for nearly 400 years.

Return to Madrid for a tour of the cultural side of the city with a private tour beginning at the famous Prado Museum, one of Europe's most famous art museums. From Spain's greatest art masters Goya, Velazquez, and El Greco, to Rubens and Titian, the Prado boasts one of the world's finest collections of European Art spanning a time from the 12th to the early 19th centuries.
Overnight at the Westin Palace, Madrid Hotel. (B)


DAY 9, Wed: Madrid / Granada (Alhambra & City)
Depart Madrid driving south toward Granada situated in Spain's Andalusia region, in the foothills of the Sierra Nevada mountains, famous for grand examples of medieval architecture dating to the Moorish occupation.

Afternoon arrival to Granada, home of the Alhambra. Perched atop a hill, this spectacular residence of the Moorish Kings is an extraordinary fantasy of patios, arches, cupolas, gardens and fountains. The Golden Age of Southern Spain came about only after the arrival of the armies of Islam, who had swept out from Mecca in the 7th century across the vast deserts of North Africa and crossed the straits of Gibraltar in the 8th century. This newly-conquered land, at the very edge of Islam, would become known as al-Andalous (Andalusia).

We begin our tour with a visit to the Alhambra, one of the finest monuments of Islamic architecture in Spain, and Granada's most popular tourist attraction consists of a gathering of splendid Moorish palaces and landscaped gardens. Set against a backdrop of brooding Sierra Nevada peaks, this fortified palace complex started life as a walled citadel before going on to become the opulent seat of Granada's Nasrid emirs. Their showpiece palaces, the 14th-century Palacios Nazaríes, are among the finest Islamic buildings in Europe. Highlights include the stunning Nasrid Palaces, the Alcazaba, Generalife, the imposing towers, and the Palace of Charles V. Comprising the remains of a former massive fortress, the Alcazaba is the oldest part of Alhambra and the best spot to admire the spectacular Sierra Nevada and the city stretching out below.

Continue visiting the old section of Granada including the Puerta de Elvira, the gate through which Ferdinand and Isabella made their triumphant entry into Granada in 1492. The quarter surrounding the gate was the Arab section (morería) until all the Arabs were driven out of the city after the Re-conquest. Another fascinating street is Calle de Elvira; west of it the Albaicín, or old Arab quarter, rises on a hill. In the 17th and 18th centuries, many artisans occupied the shops and ateliers along this street and those radiating from it. Here also stands the Iglesia de San Andrés, begun in 1528, with its Mudéjar bell tower. Much of the church was destroyed in the early 19th century, but several interesting paintings and sculptures remain.

Next, we visit the neighborhood known as the Juderia, or Jewish Quarter during the Muslim period of rule. The old gates and walls have not survived but the upper parts of the Quarter retain some if its original labyrinthine layout - a feature of Moorish urban design. Will spend some time at the Sephardi Museum of Granada which hosts events such as concerts and gastronomy evenings. We will stop at the Palace of the Forgotten - a new privately-run Sephardic museum that opened recently. Many of its exhibits come from its sister museum in Ubeda.

We overnight at the recently renovated Alhambra Palace Hotel, the oldest five-star hotel in Spain, and legend in tourism since 1910. Luxury Palace hotel inspired by the Alhambra Palace monument itself, faithful representative of a renewed tradition and high European hospitality. Culture, pleasure, elegance and aristocracy coexist in this centenary hotel, pioneer of tourism in Andalusia and Spain, offering amazing views of the romantic city of Granada or the corners of the forest of the Alhambra.
Overnight at the Alhambra Palace Hotel. (B)


DAY 10, Thu: Granada - Cordoba - Seville (City of Cordoba)
This morning we head to Cordoba, located at the southern foot of the Sierra Morena mountain range, at the right (north) bank of the Guadalquivir River. Once the capital of both the Romans and Moors, and former home of many illustrious scholars and poets including Muslim scientist and philosopher Averroes and Jewish philosopher and physician Maimonides (whose synagogue still stands). Cordoba thrived and expanded with its unique blend of cultures and became the largest city in all of Europe. As you wander down its picturesque and evocative streets in the restored heart of Cordoba it is not difficult to imagine the days when Cordoba was one of the most important cities in Europe. The highlight of the tour is the Mezquita, the most significant Muslim architectural achievement in the Western world. This 8th-Century structure was first a church, then a mosque, and today has a cathedral oddly placed in its center. It is a vast forest of hundreds of delicate marble columns and elegant arches. Its mihrab - the niche which denotes the direction of Mecca - is a brilliant and rich composition of mosaics sent as a gift by the Emperor of Byzantium. Next follow narrow streets to the old Jewish quarter (Juderia) with its whitewashed houses and colorful courtyards and shops. The old Jewish quarter consists of a fascinating network of narrow lanes.

The Jewish Quarter is the best-known part of Cordoba's historic center, which was declared a World Heritage Site by UNESCO in 1984 and is one of the largest in Europe. To the northwest of the Mosque-Cathedral along the city wall, its medieval streets have a distinctly Moorish flair to them, reminiscent of the Jews' prosperity under the Caliphate of Cordoba. This neighborhood's history is a history of the Caliphate and of the West. Of special interest are the Synagogue and Souk.

With the fall of the Caliphate in 1031, however, came the decline of both Arab and Jewish vitality in Cordoba. Civil war and the religious intolerance of the Almohad Berbers from North Africa laid waste to much of the city's prosperity. Gone were the outlying palaces, large neighborhoods, wide avenues and orderly markets which extended beyond the city walls. Many Jews fled to Christian territories in the north of Spain or abroad. With the end of peace and religious tolerance in Cordoba, the city's political, economic and cultural greatness evaporated, leaving only traces of aristocratic superiority in the wounded consciousness of its provincial inhabitants for the next 30 generations.

One of the brilliant minds to abandon the former capital at this was Moses Maimonides, also known as the Rambam, considered among the greatest Jewish scholars of all time. He made enduring contributions as a philosopher, legal codifier, physician, political adviser and local legal authority. Throughout his life, Maimonides deftly navigated parallel yet disparate worlds, serving both the Jewish and broader communities.

We exit Cordoba and head further south to Seville, capital of southern Spain's Andalusia region. Seville is the setting for Bizet's Carmen as well as Mozart's Marriage of Figaro. It is a seductive, sun-drenched city of orange blossoms, the twirl of the flamenco dancer, the strumming of the solo guitar and the delicious smells of Spanish cooking. It is a city where orange trees adorn every street and square. On every patio and every terrace birds sing and geraniums bloom. This is home to the Alcazar, a Moorish palace, and the magnificent Giralda Tower, originally a minaret of Seville's great mosque that dominates the city's skyline. Visit the Cathedral-the largest Gothic building in the world-and then proceed to the Jewish quarter, the Barrio de Santa Cruz, with its twisting alleyways and whitewashed houses.

This evening a special treat as we check into the Palacio De Villapanes, an authentic slice of Spanish elegance, just moments from the historic heart of Seville. Hotel Palacio de Villapanés is a converted 18th century palace that does traditional elegance with a modern twist. You'll find baroque architecture, marble columns and tiles, ornate archways and parquet floors. Yet, there's also an exclusive, modern feel with contemporary furnishings, sumptuous fabrics and sleek bathrooms. This is authentic Andalusian opulence brought into the 21st century. Located just a few steps from the Barrio de Santa Cruz, this hotel rubs shoulders with the city's major sights including 'La Giralda' bell tower and 'La Catedral'.
Overnight at the Palacio De Villapanes. (B)


DAY 11, Fri: Seville (City of Seville)
Situated on the banks of the Guadalquivir River, Seville has a rich Moorish heritage, and used to be a prosperous port that carried out trade with the Americas. It's famous for flamenco dancing, particularly in its Triana neighborhood. Major landmarks include the ornate Alcázar castle complex, built during the Moorish Almohad dynasty, and the 18th-century Plaza de Toros de la Maestranza bullring. The Gothic Seville Cathedral is the site of Christopher Columbus's tomb and a minaret turned bell tower, the Giralda.

Today we tour the city visiting the Plaza de España, a jewel of 20th century Seville architecture. The Plaza de España is a majestic architectural complex built as the central office for the Ibero-American Exposition, a world fair held in Seville in 1929. It is located in the Maria Luisa Park, just south of Seville's historic center.

Then continuing to what once was the door to the Americas, the Golden Tower, one of Seville's most photographed landmarks, as it is prominently located at a wide promenade near the river bank, close to the city's historic center. The tower is a legacy of the Almohades, a Moorish dynasty that controlled much of Southern Spain until the reconquest of the area by the Christians in the thirteenth century.

We also visit the Centro (Centre), the hub of Seville's culture and activity for centuries with stunning architecture, monumental buildings, great shopping and more. We visit the city's Gothic cathedral, second only in size to St Peter's Basilica in Rome. It was built on the site of a 12th century mosque and its lavish interior houses the supposed tomb of the great adventurer Christopher Columbus. We also visit the adjoining La Giralda tower where you can climb to the top (if you're in shape) for wonderful views of the city. The tower was the minaret of the original mosque - the conquering Christians hadn't the heart to raze it to the ground and it was allowed to take its place in history as one of Europe's most famous towers. Near the cathedral we visit the Alcazar Moorish fortress, parts of which resemble aspects of the spectacular Alhambra Palace in Granada. Thousands of painted tiles and murals are to be found within its 9th century turreted walls. Next, we visit the Jewish quarter, the Barrio de Santa Cruz, with its twisting alleyways and whitewashed houses.

Santa Cruz is the primary tourist neighborhood of Seville, and the former Jewish quarter of the medieval city. The old Jewish quarter of Seville is overflowing with history and legends. Santa Cruz is the labyrinth of houses and plazas bordered by the Real Alcazar, the Jardines de Murillo, Calle Mateos Gago, and Calle Santa Maria. The area gets its name from Santa Cruz church, a Mudéjar style temple built on the site of a ruined synagogue. The church was itself ruined during the Napoleonic wars and a plaza was built on the spot. Plaza Santa Cruz uses the same floor that had been in the synagogue and church. The plaza was beautified in 1921 when the 'Locksmiths Cross' was moved here - a 1692 monument built by Sebastian Conde.
Overnight at the Palacio De Villapanes. (B)


DAY 12, Sat: Seville (Shabbat Free, Evening Flamenco Show)
Today is free to attend Shabbat Services.

This evening we step into the Seville nightlife for dinner and the magic of the Flamenco. Even the reserved or rhythmically inept, are unable to resist the sounds and rhythm of the Flamenco and are swept up by the beat.... even clapping along. Flamenco dance, born in Spain, is at its best in Andalusia's capitol... Seville!
Overnight at the Palacio De Villapanes. (B)


DAY 13, Sun: Depart Seville
Today we say goodbye to Spain as we we are transferred to the airport for the flights back home. (B)