SEFARAD: Porto & Portugal's Jewish Legacy
About this event
Porto, the picturesque city along the Douro River in Northern Portugal, the second-largest city in the country, best known for port wine, bridges, and stunning views. It is a place of great beauty, steeped in history and mystery. Porto was a key part of Portugal since Roman times (when the country was a province known as Lusitania). While the earliest arrival of Jews to the region is not documented, by medieval times, the Jewish community of Porto was flourishing. By the 12th century, when the Kingdom of Portugal was formed by King Afonso I, the long-standing Jewish community played an integral role in city affairs and had a relatively harmonious relationship with the Catholic Church.
Portuguese Jewry was spared the appalling violence Spanish Jewry encountered in 1391 that continued throughout the 1400s. Nonetheless, by the late 15th and early 16th centuries, anti-Jewish sentiment had increased in the Iberian Peninsula, and made its way to Portugal. Spanish Jews fleeing the 1492 Edict of Expulsion found temporary refuge in Portugal, including Porto, until all Portuguese Jewish communities were ordered expelled and forcibly converted en masse by King Manuel I in 1497. As New Christians, many opted to hold on to their Jewish traditions (Crypto-Jews), practicing Catholicism by day or in the open, and Judaizing, or practicing the Law of Moses in hiding, a practice that was passed down from generation to generation. Amidst the workings of the Portuguese Inquisition which formally lasted in Portugal and its global colonial empire from 1536-1821, Portuguese New Christians continued to shape the city whilst many others left the country and journeyed around the world, sprouting Sephardic communities in Europe, the Ottoman Empire, and eventually the New World.
By the 19th century, Jews started to return to Portugal from Morocco and Gibraltar; by World War I, the Jewish community had been formally reestablished in Lisbon and Ashkenazi Jews fleeing violence in Central and Eastern Europe arrived in Porto, bolstering the few remaining Sephardic Jews. A renaissance in Porto, and an extraordinary moment in history, occurred in the 1920s when the Portuguese Army Captain Artur Carlos Barros Basto – a descendant of conversos – uncovered Crypto-Jewish communities in rural towns and villages surrounding Porto that had endured in silence for centuries. With the support of Jewish communities in Europe and North America, he sought to reintegrate these anusim (Crypto-Jews) into the normative Porto community. Great strides were made, including the construction of the magnificent Kadoorie Mekor Hayyim Synagogue in 1938, but he did not live to see this work finished as false accusations were made against him, leading to his dismissal from the army, thus leading him to be known as "the Portuguese Drefyus".
During World War II, the Porto Jewish community and Captain Barros Basto welcomed hundreds of refugees fleeing war and Nazism. Many of these refugees were issued life-saving visas by Aristides de Sousa Mendes, the Portuguese consul in Bordeaux (sometimes called the "Portuguese Schindler"). In 1966, he was posthumously recognized by Yad Vashem as Righteous Among the Nations.
In this webinar, we will learn the incredible stories of Porto's Jewish history, from medieval times to the present, and the extraordinary roles played by two men whose names have largely gone unnoticed in Jewish and world history. Join JHA for what is sure to be a stirring and engaging online program!
Introduction: Mr. Michael Steinberger – JHA Founder & CEO.
Welcome Remarks: His Excellency Francisco Duarte Lopes, Ambassador of Portugal in Washington DC - We are honored to have His Excellency Ambassador Francisco Duarte Lopes, the Ambassador of Portugal to the United States of America delivering the event's Welcome Remarks. His prior positions were Permanent Representative of Portugal to the UN, New York, (2017-2022), and Director-General for Foreign Policy (2014 - 2017).
Moderator: Dr. Isaac Amon, JHA Director of Academic Research.
Key Speaker: Mr. Hugo Vaz – A native of Porto and a trained educator, with degrees in Archaeology and Museum Studies from the University of Porto. He has coordinated the Jewish Community's Cultural Department since 2012 and since 2021, he has simultaneously served as the Curator of both the Jewish Museum of Porto and the Holocaust Museum of Porto.
Presenters:
Dr. Michael Rothwell - Born in Manchester, UK, he is the maternal grandson of Holocaust survivors. He holds a PhD from the University of Manchester and a master's degree from the University of Cambridge, both in Mathematics. He is a Mathematics tutor at the Portuguese Open University, having taught Mathematics at the Oporto British School until his retirement in 2021. He is a longtime Board Member of the Jewish Community of Porto.
Ms. Isabel Ferreira Lopes – Born in Porto, she holds a master's degree in Economics from the University of Porto. A financial and administrative manager in three different companies until her retirement in 2010, she has served as Vice President of the Porto Jewish Community since 2005. As the granddaughter of Artur Carlos de Barros Basto, she will share some personal memories of him.
Jeannette V. (Cookie) Fischer - Jeannette grew up in the US, Europe, Peru, and Mexico. She currently resides in Lisbon and is the Sousa Mendes Foundation (SMF) Liaison for the Jewish and American Communities in Portugal. She is the co-tour leader of the July 2023 SMF trip, "Journey on the Road to Freedom", which follows in the footsteps of Aristides de Sousa Mendes and the refugees he saved. Her mother, Adele Margaretha van den Bergh, escaped from Bayonne on June 22, 1940, on a sardine schooner due to a lifesaving visa issued by Sousa Mendes.
Secure your place and reserve today! First Come… first served.
____________________________________________________________________________
Program Co-Sponsor :
The sponsors for this event is: Comunidade Israelita do Porto and Congregation Mikveh Israe
Program Co-Hosting Partners:
Temple Moses Sephardic Congregation of Florida , ANU Museum of the Jewish People, the Society for Crypto-Judaic Studies, the American Sephardi Federation's Institute of Jewish Experience, the Jewish Learning Channel, Gratz College, Kulanu , Reconectar, Touro Synagogue and European Jewish Community Centre University of Miami (Leonard Miller Center for Contemporary Judaic Studies and the George Feldenkreis Program in Judaic Studies)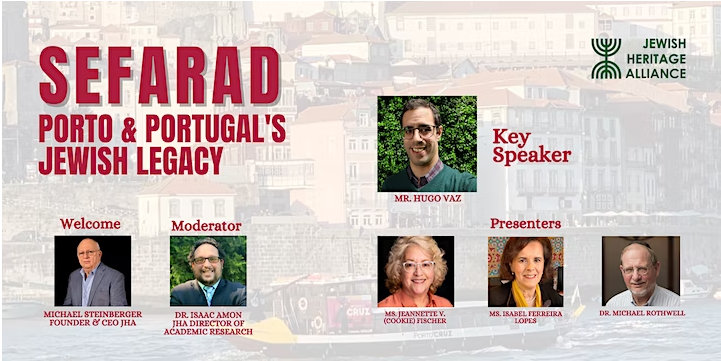 #sefaradic #sefaradit #sefaradexperience #sefaraditaspernambuco #sefaradifood #sefaradmusic #séfarad #sefaradicmusic #sefaraditas #sefaradfood #women #womenempoweringwomen #celebratewomensachievements #Sefaradismo #sefarad #jewish #JewishHeritageAlliance #jewishpride #jewishpeople #jewishhistory #cryptojews #conversos