SEFARAD: The Untold Story of Jewish Portugal
About this event
On December 18, 2022, the world ushers in Hanukkah, the Jewish Festival of Lights. This holiday commemorates the stunning military victory of the Maccabees over Syrian Greek rule in 164 B.C.E; it also celebrates the rededication of the Temple in Jerusalem, and most notably, the restoration of religious freedom. In commemoration of our history, Jewish Heritage Alliance, co-sponsors, and co-hosting partners present this special webinar on the story of Jewish Portugal.
The history of Jews in Portugal extends back thousands of years. Some believe the earliest Jews arrived during biblical times although Jewish communal existence is dated to the Roman era. With the fall of the Roman Empire in the 5th century C.E, Jews were persecuted by the Visigoths. Nonetheless, by the height of Jewish life in Medieval Portugal, there were over 150 Jewish communities throughout the nation. Every major town, village and port had a Judiaria (Jewish quarter) with its own institutions and places of worship. With the banning of Judaism in 1496, these communities ended, as Jews were forced to leave Portugal or convert to Christianity, becoming known as "New Christians".
As "New Christians" (many of whom remained hidden or Crypto-Jews), fleeing inquisitorial persecution and seeking greater commercial opportunities, they went around the globe, ranging from Amsterdam to Brazil and New York to India. In Portugal itself, many walls, gates, carvings, and religious sites have vanished in the last five centuries, but the memory of those Judiarias is remembered in place names, historic markers, and Mezuzot door slots, inscriptions, and local tales. Jewish Portugal changed the course of history.
Our Key Speaker is Mr. Richard Zimler, an expert and bestselling author on Jewish Portugal, who will share his personal journey of discovery. He is dedicated to writing historical novels focusing on perspectives of "marginalized" groups, whose stories have rarely been told. In Portugal, where Zimler has lived since 1990, Portuguese Jews seldom appear in history; they have largely been erased.
Joining Richard in this online webinar will be Rabbi Eli Rosenfeld, the Rabbi of the Avner Cohen Chabad House in Cascais, who will share with us his passion for collecting original books and writing relating to the history of Jewish Portugal. He will provide an overview of Portuguese Jewish sages, whose commentaries have influenced Jewish life, including Don Isaac Abravanel and Rabbi Avraham Saba.
Also featured in this final JHA webinar of 2022 are Dr. Michael Rothwell, a board member of the Jewish Community of Oporto, Portugal and Mr. Eli Gabay, Esq., Parnas/President of Congregation Mikveh Israel in Philadelphia.
Our moderator is Dr. Isaac Amon, JHA Director of Academic Research.
Secure your place and reserve today! First Come… first served.
Sunday, December 18, 2022 at 1PM EST
______________________________________________________________________________
Program Co-Sponsor Partners:
The sponsors for this event are: Congregation Mikveh Israel, Comunidade Israelita do Porto, University of Miami (Leonard Miller Center for Contemporary Judaic Studies and the George Feldenkreis Program in Judaic Studies)
Program Co-Hosting Partners:
Temple Moses Sephardic Congregation of Florida , ANU Museum of the Jewish People, the Society for Crypto-Judaic Studies, the American Sephardi Federation's Institute of Jewish Experience, the Jewish Learning Channel, Gratz College, Kulanu , Reconectar, Touro Synagogue and European Jewish Community Centre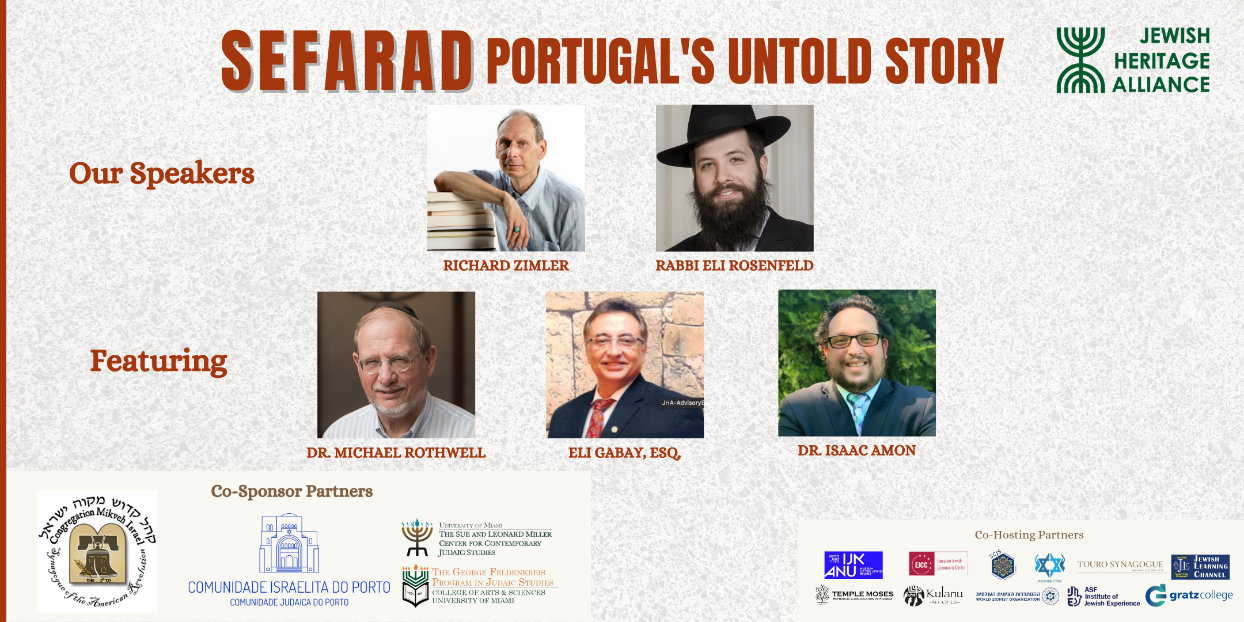 #sefaradic #sefaradit #sefaradexperience #sefaraditaspernambuco #sefaradifood #sefaradmusic #séfarad #sefaradicmusic #sefaraditas #sefaradfood #women #womenempoweringwomen #celebratewomensachievements #Sefaradismo #sefarad #jewish #JewishHeritageAlliance #jewishpride #jewishpeople #jewishhistory #cryptojews #conversos