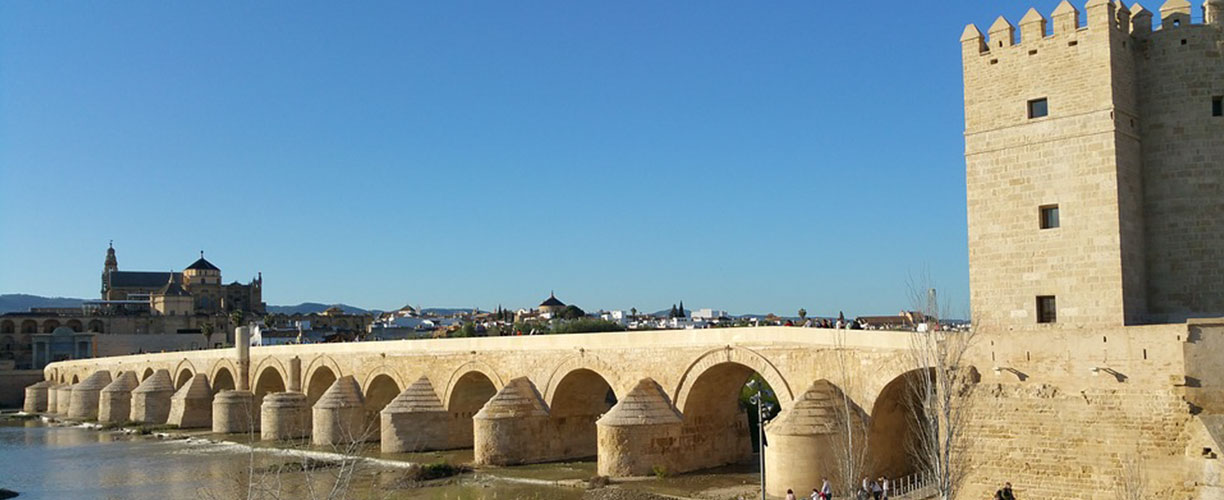 Spain Discovery Tour
Overview / Highlights
12 NIGHTS / 13 DAYS
Spain Discovery is another in our series of tours visiting some of the most famous historical and cultural regions of Spain. We visit Madrid and surrounding historical cities; picturesque Toledo, one of Europe's oldest and most mystical cities. We visit Cordoba home to the Mezquita as well as the ancient town of Carmona. Then it's Seville, a mixture of new and old cultures with nearby Jeresz, the birthplace of sherry, as well as the ancient towns of Arcos, Ronda and Antequera. Next is Granada, home to the Alhambra, and we end this grand tour in Barcelona, capital of Catalonia, Spain's second largest city.
Tour Program Summery Outline

Day 1: Arrive Madrid Day 2: Madrid Day 3: Madrid (Avila & Segovia) Day 4: Madrid –Toledo – Cordoba Day 5: Cordoba – Carmona – Seville Day 6: Seville (City Tour) Day 7: Seville - Jerez- Across - Ronda - Antequera Day 8: Antequera - Granada Day 9: Granada (Alhambra and City Tour) Day 10: Granada - Barcelona Day 11: Barcelona (Modern and Artistic Walking Tour) Day 12: Barcelona (Optional Visit to Girona) Day 13: Depart Barcelona
Click   icon to enlarge map to full screen view and back 
Day 1: Madrid
Welcome to Madrid, the political, economic and cultural center of Spain. Here, where modern and old Madrid lives side by side, you will revel in Madrileños, celebration of life. Madrid's culture abounds with world renowned El Prado and Reina Sofia Museums, an ensemble of sidewalk artisans along the Plaza Mayor, a 17th century masterpiece of Renaissance architecture, a popular night-time spot for outdoor cafes and tapas bars. Transfer to your selected hotel for overnight.
Day 2: Madrid (Habsburg's Madrid Walking Tour)
This morning we enjoy a walking tour of Hapsburg Madrid, the oldest section of the city where we find many of the city's historical attractions. This tour encompasses 16th- and 17th-century Madrid, including the grand plazas and traffic arteries that the Habsburg families built to transform a quiet town into a world-class capital. We visit Calle Mayor, one of Madrid's oldest streets. We also visit Palacio Real where the king of Spain hosts state ceremonial activities. We visit Madrid's most famous landmark the Plaza Mayor, Madrid's most beautiful and evocative square, a setting for occasional exhibitions and concerts, is a focal point of the city and the heart of vintage Austrias Madrid. This afternoon we focus on the cultural side of the city with a private tour beginning at the famous Prado Museum, one of Europe's most famous art museums. From Spain's greatest art masters Goya, Velazquez, and El Greco, to Rubens and Titian, the Prado boasts one of the world's finest collections of European Art spanning a time from the 12th to the early 19th centuries.  
Day 3: Madrid (Avila and Segovia)
Today we indulge in more of Spain's sensational history visiting Avila and Segovia. First stop Avila, the most perfectly preserved walled city in all Europe. Inside the wall little has changed since the Middle Ages. En-route we'll stop at hilltop Los Cuatro Postes for a superb panoramic view before visiting Avila's San Vicente Basilica. Tour also includes a visit to Avila's cathedral. Ancient hill-top Avila has been declared a Unesco "Heritage of Mankind" site and is famous for its intact city walls and 90 towers dating back to the 11th century. Next, it's on to Segovia to see one of the best Roman-era monuments on the Iberian Peninsula - Segovia's incredible aqueduct. Built in the time of Augustus, the aqueduct has 118 arches and is 10 miles (16 kilometers) long, although just a fraction of its length remains visible today. Segovia is also famous for its Alcazar, a beautiful 11th-century medieval fort that inspired the design of the Disney castle. Step back in time and imagine the medieval tournaments that once took place and the heroic knights who fought here. We'll break for a superb gastronomic lunch featuring local Segovian specialties. We return to Madrid for overnight
Day 4: Madrid - Toledo - Cordoba (Tours of Toledo & Cordoba)
This morning first we make our way to picturesque Toledo, a melting pot of five cultures and one of Europe's oldest and most mystical cities. Here you will view magnificent examples of Roman, Visigothic, Jewish and Arab architecture. Visit the Synagogue followed by the massive Cathedral, El Greco's home, and the church of San Tome where El Greco's masterpiece, "The Burial of the Count of Orgaz" is yours for the viewing. Continue our drive through Don Quixote's La Mancha countryside to Cordoba, one of Spain's oldest cities. Once the capital of both the Romans and Moors, and former home of many illustrious scholars and poets including the renowned Jewish philosopher and physician Maimonides (whose synagogue still stands) and Muslim scientist and philosopher Averroes. As you wander down its picturesque and evocative streets in the restored heart of Cordoba it is not difficult to imagine the days when Cordoba was one of the most important cities in Europe. The highlight of the tour is the Mezquita, the most significant Muslim architectural achievement in the Western world. This 8th-Century structure was first a church, then a mosque, and today has a cathedral oddly placed in its center. It is a vast forest of hundreds of delicate marble columns and elegant arches. Its mihrab - the niche which denotes the direction of Mecca - is a brilliant and rich composition of mosaics sent as a gift by the Emperor of Byzantium. Next follow narrow streets to the old Jewish quarter (Juderia) with its whitewashed houses and colorful courtyards and shops. Other points of interest: Alcázar de los Reyes Cristianos; Museo Arqueológico Provincial; Medina Azahara and Guided visit Museo de Bellas Artes de Cordoba.
Day 5: Cordoba – Carmona – Seville (Visit Carmona & Dinner Seville)
We continue driving south towards Seville making a stop at Carmona, an ancient city dating back to Neolithic times. This national landmark boasts narrow streets, whitewashed walls and Renaissance mansions. We visit the elegant Plaza San Fernando, Moorish fortresses, and a Roman necropolis and amphitheater built about 2,000 years ago. We make our way to panicle of the town, the Parador Alcazar del Rey Don Pedro with its Moorish style patio, wonderful halls with decorated ceilings, balconies overlooking a hazy vega (valley). Several civilizations have brought and left their mark to this historical region and beautiful 14th-century Parador. We stop for lunch at the courtyard with splendid views and landscaped gardens and Mudejar fountain. We continue driving for another 30 or 45 minutes to Seville, the capital of Andalusia boasting a rich 2,500-year-old history. Seville is well known for dramatic bullfights, exciting festivals, and flamenco music that plays long into the night. For Expo 92, the city underwent an extensive revitalization that improved the overall infrastructure without sacrificing Old World charm. Balance of day free to wander quaint streets lined with terrace cafés serving tapas and sherry. Flamenco is one of the most characteristic elements of Spanish culture, especially throughout the southern region of Andalucía. Drawing musical elements from various eastern world cultures and fusing them later on with the Jewish and Arab cultures eventually yielded the musical art form and source of national - and in particular Andalucían - pride known as flamenco. This evening we step into the Seville nightlife to enjoy dinner and the music and dance of the Flamenco.
Day 6: Seville (City Tour)
Seville is the setting for Bizet's Carmen as well as Mozart's Marriage of Figaro. It is a seductive, sun-drenched city of orange blossoms, the twirl of the flamenco dancer, the strumming of the solo guitar and the delicious smells of Spanish cooking. This is home to the Alcazar, a Moorish palace, and the magnificent Giralda Tower, originally a minaret of Seville's great mosque that dominates the city's skyline. Today we tour the city visiting the Plaza de España, a jewel of 20th century Seville architecture. Then continuing to what once was the door to the Americas, the Golden tower. We also visit the Centro (Center), the hub of Seville's culture and activity for centuries with stunning architecture, monumental buildings, great shopping and more. Next we visit Santa Cruz the city's former Jewish district, with its charming winding streets, white-washed buildings and flower-filled patios, certainly the most picturesque section of Seville. Here you can find anything from hole-in-the-wall flamenco venues to major landmarks like the Cathedral, the world's largest Gothic building in the world, formerly the site of a Moorish mosque. We will stop at the Alcazar, a fortress from the Muslim-era (dates from AD 913) which served as a hideout of Muslim and Christian royalty for many centuries. Overnight at the Alfanso XIII (B)
Day 7: Seville - Jerez-Across - Ronda – Antequera
This morning drive to Jerez de la Frontera the birthplace of sherry. En route, stop and enjoy a wine tasting session at Pedro Domecue's famous winery. Jerez is also world renowned for its fine horses and brilliant singers and dancers of flamenco. Pass the Royal Andalusian School of Equestrian (horse dancing show operates Thursdays and some Tuesdays). Continue to Arcos de la Frontera, a breathtaking white town high atop a hill. Visit the Church of Santa Maria and the 18th century tower of the Church of San Pedro. Continue to Ronda, one of the oldest towns in Spain situated in the Serrania de Ronda Mountains. Its most dramatic feature is El Tajo, an immense ravine dividing the old town from the new, spanned by a Roman stone bridge. View the cliff-hanging houses and Spain's oldest bull ring. Continue to Antequera for overnight at the Parador.
Day 8: Antequera / Granada
Morning visit of the white walled town of Antequera. Visit the Moorish Castle, the 16th century church, and the Menga and Viera dolmens, two funeral chambers and continue to Granada, home of the Alhambra. Perched atop a hill, this spectacular residence of the Moorish Kings is an extraordinary fantasy of patios, arches, cupolas, gardens and fountains. The Golden Age of Southern Spain came about only after the arrival of the armies of Islam, who had swept out from Mecca in the 7th century across the vast deserts of North Africa and crossed the straits of Gibraltar in the 8th century. This newly-conquered land, at the very edge of Islam, would become known as al-Andalous (Andalusia). The Moors created a stunning civilization that outshone its neighbors in Christendom and in the rest of the Islamic world. Medieval Andalusia was a light in the Dark Ages of Europe: a land where Muslim, Christian and Jew created an intellectual, advanced and tolerant society.
Day 9: Granada (Full day Alhambra & City Tour)
Today we visit the Alhambra palace and the Generalife gardens, the most important and best preserved Arabian palace of its epoch. The Alhambra is really a palatial city defended by a network of walls and towers. Successive rulers altered, adapted and replaced the buildings, each imposing his style. Today's Alhambra is almost entirely the work of one king, Mohammed V. Not only that the Moors were brilliant architects of bricks and mortar, of precious marble and delicately carved wood, but also of trees and flowers, of cascading fountains and tranquil pools. Next we visit the old section of Granada including the Puerta de Elvira, the gate through which Ferdinand and Isabella made their triumphant entry into Granada in 1492. The quarter surrounding the gate was the Arab section (morería) until all the Arabs were driven out of the city after the Re-conquest. We view the Church of San Andrés, begun in 1528, with its Mudéjar bell tower. Much of the church was destroyed in the early 19th century, but several interesting paintings and sculptures remain.
Day 10: Granada - Barcelona (Dinner in Barcelona)
Transfer to the airport for the flight to Barcelona and transfer to the hotel. Dinner at one of the famous restaurants of the city.
Day 11: Barcelona (Modern & Artistic Walking Tours)
Welcome to Barcelona, capital of the Catalonian province, Spain's second largest city, located along the Mediterranean and flanked by majestic hills, considered one of Europe's loveliest cities. While very cosmopolitan with an eye toward the modern and exulting in its architecture by the works of Gaudí and his contemporaries. Barcelona also boasts historical monuments of Romanesque, Gothic and Renaissance periods. This morning we begin with a walk through the centuries-old streets and alleys of the Gothic Quarter of Barcelona. Next it's on to the Ramblas, the most famous and well-traveled street in the city with its charming sidewalk cafes, flower stalls and tapas bars. Continue our visit to one of Spain's landmarks: the incomplete masterpiece of Antoni Gaudi known as the Sagrada Familia (Sacred Family). This unique cathedral is imaginatively shaped as a looming, magnificent sand castle.
Day 12: Barcelona (Optional Girona)
Day at leisure to enjoy the city on your own … or add a visit to Girona. Gerona is a city in the northeast of Spain on the Costa Brava, near the French border. It is a beautiful city where you get a real feeling for its history just by walking through its ancient streets. It's a walled city which dates back to the Roman period, the old quarter is located within the city walls. Girona's wealth in medieval times produced many fine Romanesque and Gothic buildings that have survived repeated attacks and sieges. There are also traces of a Jewish community that flourished in Girona until their expulsion in 1492. These cultural riches are packed into Girona's walkable center. Overnight in Barcelona.
Day 13: Depart Barcelona
Transfer to the airport for the flight home.